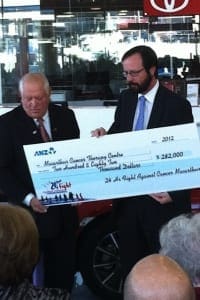 The Macarthur region is very lucky to have access to world class cancer treatment facilities staffed by talented and caring health professions. In just twelve years,  the 24 Hour Fight Against Cancer Macarthur has raised more than $3.7 million to support the work of our local centres.
Here are just a few recent examples of the tangible benefits that your fundraising is providing:
Purchase of a 12 seater wheelchair accessible patient transport bus
Salary of a full time driver
Staff training for specialised Paediatric care nurses
Purchase of specialised mattresses, chairs, cushions for loan to terminally ill patients at home
Provision of digital TV access to cancer patients at no cost to families
iPads and iTunes vouchers for use by children receiving cancer treatment
Purchase of a highly specialised laser machine to treat bladder stones and bladder tumours – previously one had to be borrowed when needed from Liverpool Hospital with subsequent delays to patient treatment
Three wall mounted digital monitors to be placed in the radiotherapy and clinic waiting areas of the Macarthur Cancer Therapy Centre to give patients up to date information about running times, facilities and services available, staff on duty etc
Two gas commode chairs for use by patients in the new Oncology Ward and for the Palliative Care Unit at Camden Hospital
Funding for the production and dissemination of a DVD for families explaining the treatments at the Macarthur Cancer Therapy Centre
Funding for the production and dissemination of a DVD for families explaining the services and supports available at the Camden Palliative care Unit
Eight recliner chairs to accommodate relatives who need to sleep overnight at the Oncology Ward at Campbelltown Hospital to support relatives receiving treatment
Garden maintenance services for the Palliative Care Tranquility Garden
Eight Posy Fall Monitors for loan to home based and palliative care ward patients to help avoid injury from falls
Therapy and counselling resources for use with children and young people who have family members receiving treatment.
Without your support these much needed items, and many more, would just not be available to improve the lives of cancer patients and their families.